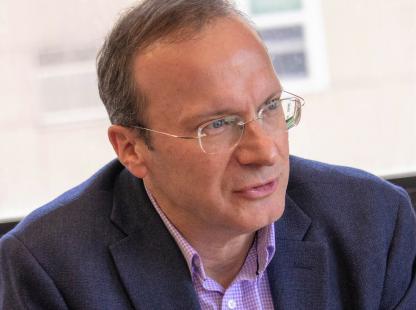 Welcome from the Dean
Welcome to the Ying Wu College of Computing! 
Why computing?  Computing excites us because it has shaped the last half century, and because we believe that its biggest potential still lies ahead.
Computing has eliminated boundaries of space and time and has created a common store of human knowledge that dwarfs anything that previously existed. It has changed our way of seeing and exploring nature.  Computational science has created a new paradigm through which all scientific disciplines query the world.  Computing has also dramatically increased productivity in business, industry and management by creating cyberspace -- the ubiquitous collection of networks and computers that function as the nervous system of modern society.  Cyberspace provides infrastructure for telecommunication, energy grids, transportation, business, commerce and banking.  Increasingly, cyberspace is the medium in which we work, socialize, learn, entertain, and imagine.
NJIT established the Ying Wu College of Computing in 2001, reflecting its desire to make computing a centerpiece of its vision for the 21st century.  Our mission is to teach a broad range of computing disciplines to students on campus and at a distance, to carry out cutting-edge computing research, and to work closely with industry. We also support faculty and student innovation and collaborate closely with the local entrepreneurial eco-system, including the one growing in leaps and bounds in neighboring New York City. We aim for a broad impact inside and outside the campus.
As the only college of its kind in New Jersey, and one of the few in the US, the Ying Wu College of Computing builds on three decades of experience in computing education and research.  Our faculty are engaged in cutting-edge research in areas ranging from networking and computer security to big data analytics, to bioinformatics, gaming and virtual reality.  Our students have access to mobile devices, high-end workstations, game development software, robots, and networking equipment – both wired and wireless. We are the largest computing program in the region, yet our classes remain small, averaging under 30 students.  Our instruction features multiple team projects and co-op programs in collaboration with industry. Our students are groomed for a wide range of employment options, and most will end up working at the best companies, often before graduation.
In our college, you will have opportunities for online fun and extracurricular activities, from hackathons and participation in student professional organizations to interactions with our corporate partners.  Please explore our college Web pages for more information.
We look forward to seeing you here.
Dr. Craig Gotsman
Dean of the College