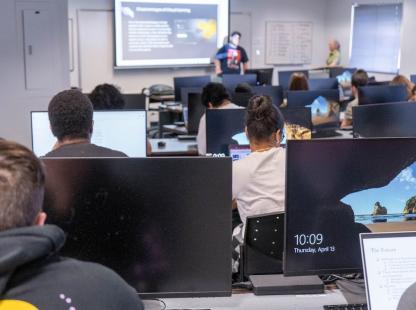 Student Research Opportunities
You're never too young to do research!
The professors of Ying Wu College of Computing are always looking for students to help with their research.
Don't worry about "not being ready" for research.  We have a 9th grade high school student taking part in Social Media research.  Don't even worry if you are not sure what "doing research" means.  You will learn it -- by doing it.
You'll need a working knowledge of one common programming language--for example, Java, C, C++, Python, JavaScript or R--and a good work attitude. Be on time for meetings, reply to email messages from your professor, tell your professor if you run into problems (including private problems) or if you don't understand your assignments, do what your professors assigns you, and make a little progress every week. 
Why do research?
We professors do research because it is fun. Hopefully, you will also feel the fun and excitement of doing something new that nobody has ever done before.
Even more importantly, you can put your research on your resume. You can talk about it at job interviews and impress your interviewer, and it will prepare you for jobs where you are expected to do research.  That widens the range of possible jobs you can take.
Academic Credit or Payment?
Projects can be done for payment (if funding is available) or for academic credit.
Contact the supervisor for more details and the timeline.
Academic credit can be obtained by enrolling in one of the following courses:  
CS 488 or IS 488 (Independent study for Undergraduates)
CS 725 or IS 725 (Graduate Research 1)
CS 726 or IS 726 (Graduate Research 2)
CS 700B or IS 700B (MS Project - 3 hours)
CS 701B or IS 701B (MS Thesis - 6 hours)
---
Blockchain Technologies
Supervisor: Grace Wang
Email: guiling.wang@njit.edu
---
Databases
Supervisor: Shantanu Sharma
Email: ss797@njit.edu
---
Visualization for Social Media Crisis Communication
Supervisor: Aritra Dasgupta
Email: dasg018@njit.edu
---
Deep Learning on Graphs
Supervisor: Yao Ma
Email: yao.ma@njit.edu
---
Massive Graph Analytics 
Supervisor: David Bader
Email: david.bader@njit.edu
---
Driving in Virtual Reality
Supervisor: Margarita Vinnikov
Email: margarita.vinnikov@njit.edu
---
Epidemic Forecasting
Supervisor: Lijing Wang
Email: lw29@njit.edu
---
FinTech
Supervisor: Grace Wang
Email: guiling.wang@njit.edu
---
Social Media Messaging and Culture
Supervisor: Julie Ancis
Email: jra49@njit.edu
---
Extended Reality
Supervisor: Margarita Vinnikov
Email: margarita.vinnikov@njit.edu
---
Practical Program Verification
Supervisors: Martin Kellogg
​Email: mjk76@njit.edu
---
Visualization for Responsible AI
Supervisors: Aritra Dasgupta
​Email: dasg018@njit.edu
---
Web Security and Privacy
Supervisor: Reza Curtmola
Email: reza.curtmola@njit.edu
---
Secure Cloud and Federated Computing
Supervisor: Shantanu Sharma
Email: ss797@njit.edu
---
Design and Evaluation of Accessible AI Technologies for Users with Disabilities
Supervisor: Sooyeon Lee
Email: sl287@njit.edu